6 Ocean Approved Sunscreens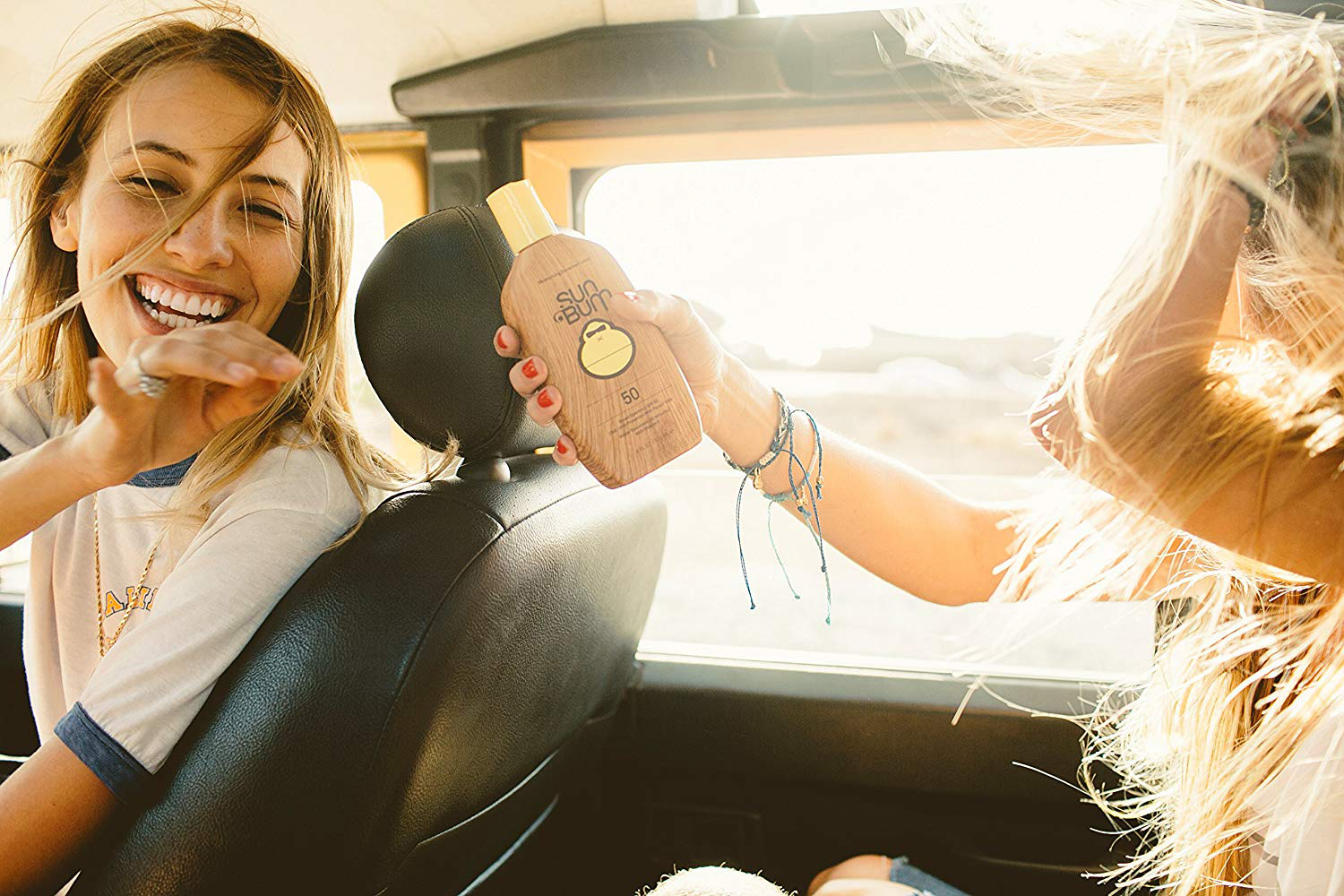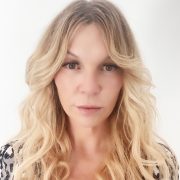 Cece Woods
Editor in Chief Cece Woods considers herself the "accidental activist".…
As the Malibu community work's tirelessly to clean up the environment from the Woolsey Fire, we are so grateful for the lush re-growth after the winter El Nino weather patterns. The succession of rains storms in January and February brought California out of a decade long drought and Malibuites are hyper vigilant not damage the environment further and support a speedy healing for rural, coastal town.
For all you beach goers, using and Ocean Approved Sunscreen is a great start to protect mother ocean. While no sunscreen is 100% safe for marine life, reefs, and the ocean, some sunscreen brands are more ecofriendly and don't contain dangerous ingredients.
The sunscreen you lather on before you jump in the ocean, protects your body, but new studies find that some of the ingredients in them may also be killing plankton, and coral reefs globally. Make no mistake – I am all for sunscreen. However, be informed that even some of the best sunscreens could potentially be harmful to your body and marine life.
Two of the least harmful ingredient's to look for in your sunscreen are zinc oxide and titanium dioxide, physical blockers, and the only ingredient's you need for excellent broad-spectrum protection.
Chemical sunscreen ingredients feel and look better on the skin… while physical sunscreens (mineral based) tend to sink into skin readily and dry clear. There's some evidence that chemical sunscreen ingredients disrupt hormones and could be killing coral reefs–Oxybenzone (a chemical sunscreen ingredient), probably the most notorious UV filter was approved by the FDA in 1978, it's a member of the phenol family that has become so prevalent, a new study finds that a single drop in a small area is all it takes for the chemicals in the lotion to mount an attack on the ocean's eco-systems.
Four commonly found sunscreen ingredients: paraben, cinnamate, benzophenone, and a camphor derivative can awaken dormant viruses that live inside reef-building coral species. The chemicals cause the viruses to replicate until their algae hosts explode, spilling viruses into the surrounding seawater where they can infect neighboring coral communities.
Coral reefs are home to a quarter of the oceans marine life and are an important line of defense against storms for coastal population. But they're rapidly disappearing. Over the past 30 years the world's oceans have lost half of their coral reefs. Efforts to rebuild coral reefs are under way but they won't work if toxic chemicals like oxybenzone and other personal hygiene products continue to leach into these ecosystems. An ecological nightmare!
We recommend using "reef friendly" sunscreen to protect the skin from the sun.
Certain foods may assist with protection against sun damage.  The most prominent carotenoids that improved skin tones were beta-carotenes and lycopene's. Fruits and vegetables containing these anti-oxidants are: Carrots, Mangos, Sweet Potatoes, Pumpkins, Red & Yellow Peppers, Tomatoes, Watermelon, Pink Grapefruit, Apricots, Peaches, Spinach, Papaya, and Guava.
Also… A wetsuit, hat, umbrella, and a rash guard are totally safe! 
Here are our top 6 picks:
Sun Bum SPF 50 Premium Moisturizing Sunscreen Lotion will protect you from harmful UVA/UVB rays while enriching your skin with vitamin E, an antioxidant that helps to neutralize free radicals, which are the main cause of premature skin aging. Sun Bum Sunscreens are tested, approved, and recommended by The Skin Cancer Foundation (SCF). The SCF is internationally recognized as the educational leader to the public and medical communities related to skin cancer prevention. The SCF does not approve or lend its seal of approval to higher risk products that do not meet their stringent standards.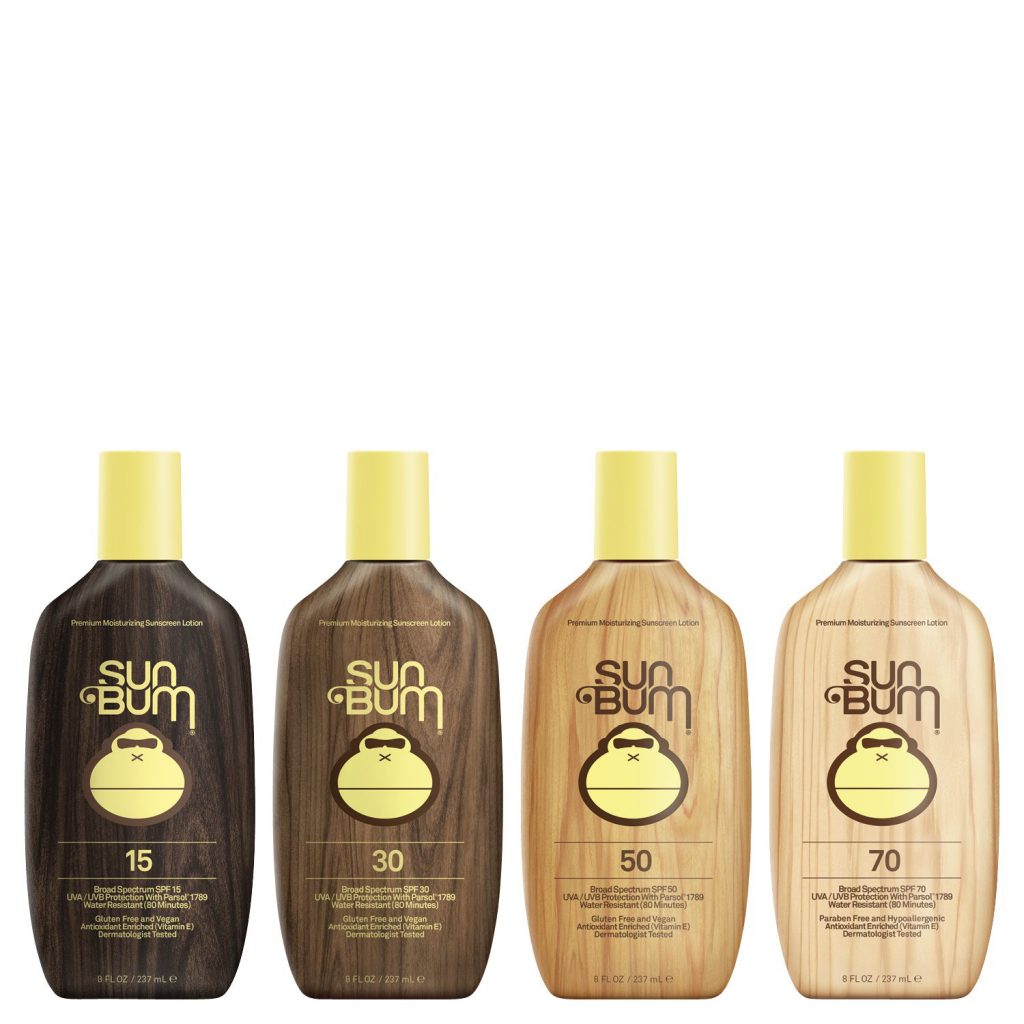 Face + Body Lotion is available in a recyclable/reusable tin. Enjoy the same serious full body sunscreen without the plastic. Made from certified all-natural ingredients, it provides UVA-UVB true broad spectrum protection. As a performance driven sunscreen, it is very water resistant beyond 80 minutes, yet so gentle and moisturizing it is perfect for kids. Packed with biologically active antioxidants, vitamins, minerals and extracts, it continues protecting your skin long after environmental exposure.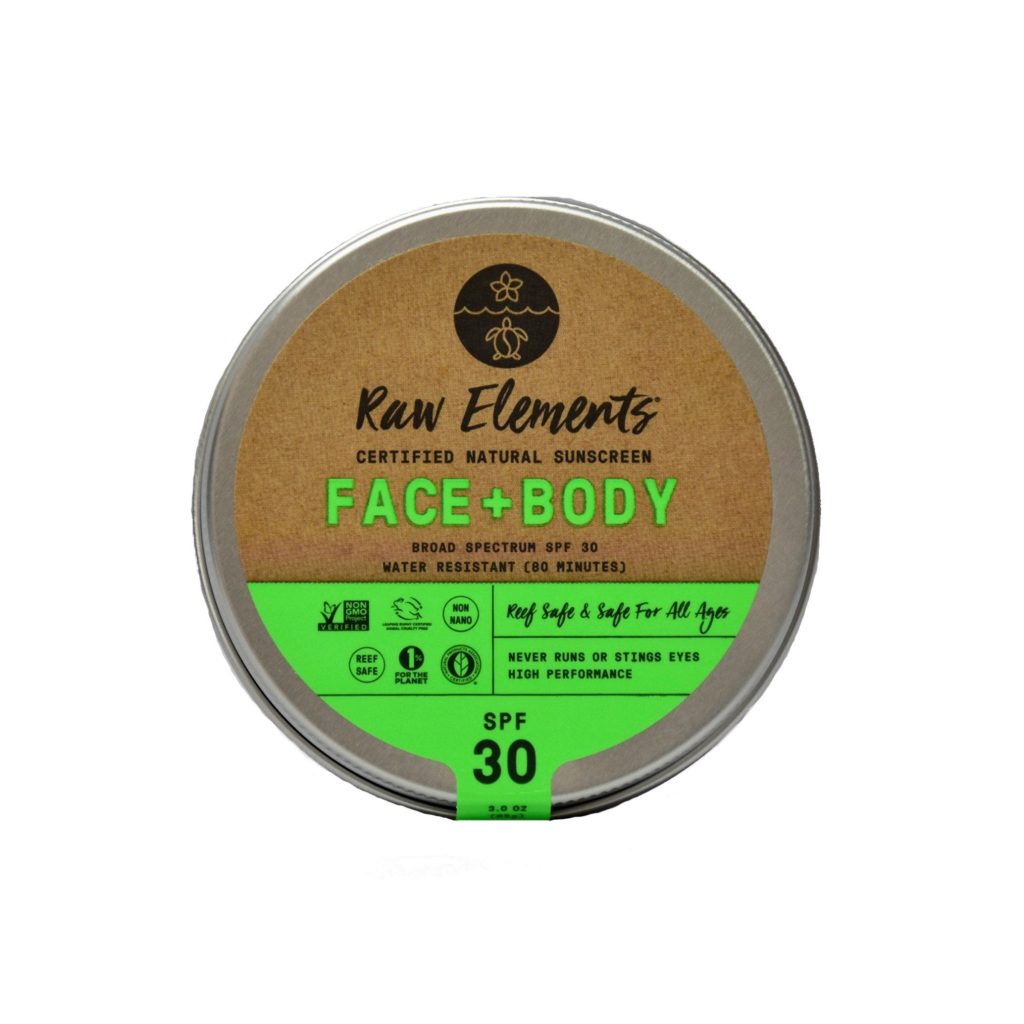 Kōkua Sun Care Hawaiian Natural Zinc Sunscreen SPF 50 is the revolution in REEF SAFE water resistant zinc sunscreen.  No toxic chemicals and no eye sting!  It rubs in clear and smooth with high performance broad spectrum protection using the highest percentage (25%) of non-nano zinc oxide available as the only active ingredient, while deeply nourishing the skin with 23 antioxidants, 7 of which are sourced from Hawaii.  Professionally formulated to go on like a moisturizing lotion and light enough for everyday use, this sunscreen with its superior water resistance also stays on through sweat and swells and protects you from the harshest UV rays.  Expect More From Your Sunscreen!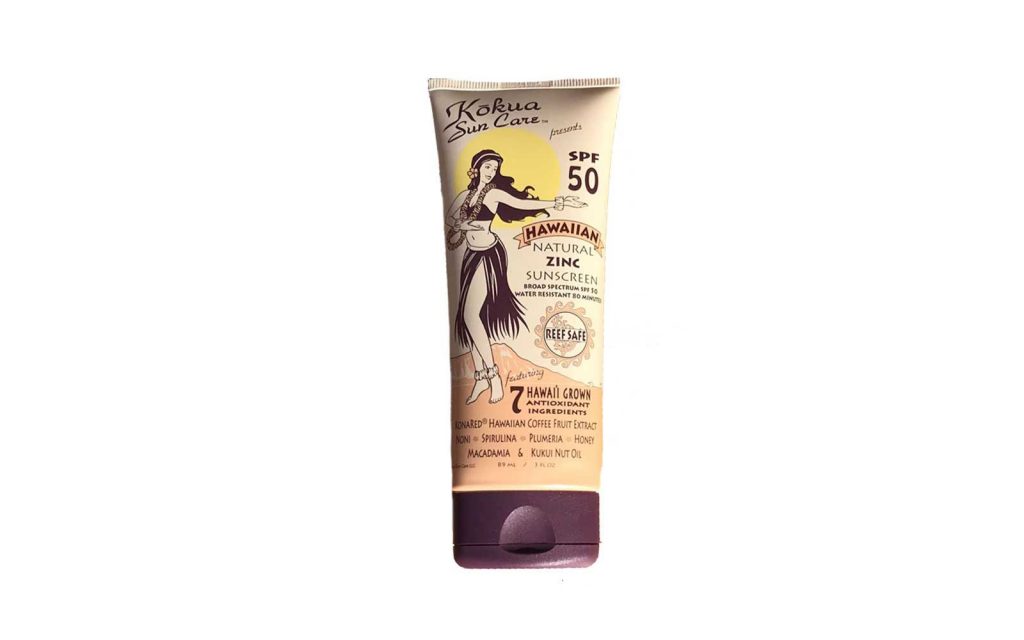 SPF 30 UVA/UVB Broad Spectrum Protection
80 Minute Water Resistant
Non-Nano Zinc Only
Lightweight formula, non-greasy
Sport — organic green tea, rose hips and buriti oil for repairing damaged skin
Kid's — organic chamomile for gently soothing sensitive skin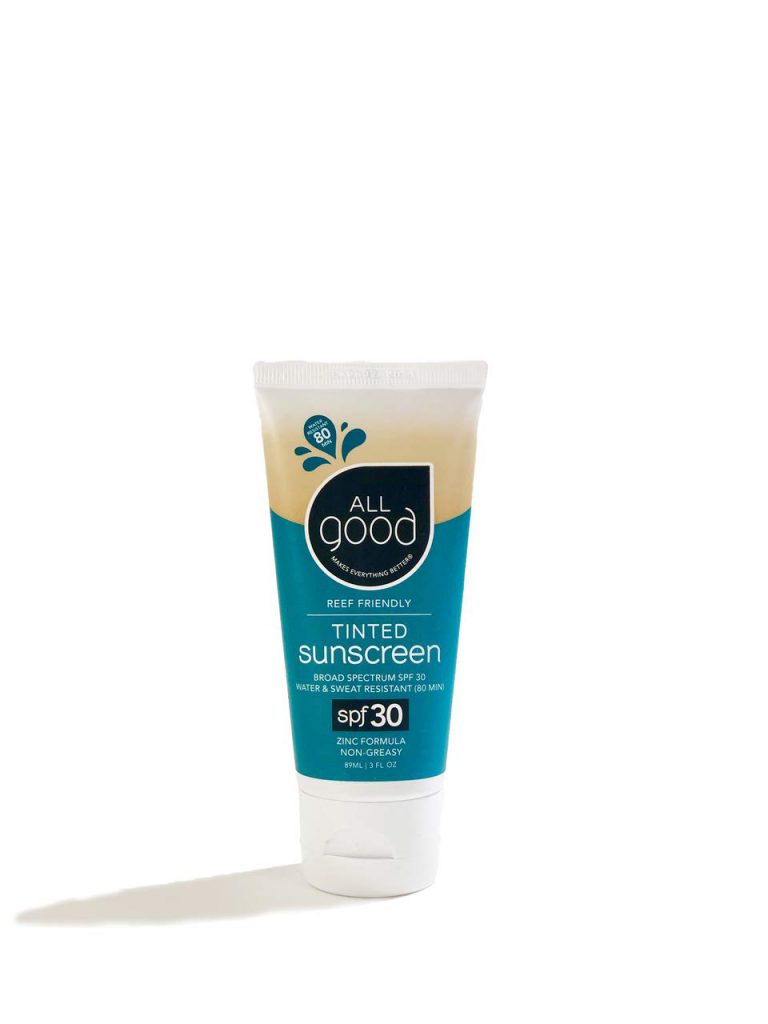 Mama Kuleana Reef Safe Waterproof Sunscreen SPF 30 $21.00
This Maui based company is dedicated to all natural, reef safe ingredients and environmentally sound  packaging.
Ingredients: organic shea butter, organic  coconut oil, beeswax, organic almond oil, zinc powder, carrot seed oil, raspberry seed oil, vitamin E oil, rosehip seed oil, frankincense, elemi, geranium, jasmine, sandalwood, myrrh, and ylang ylang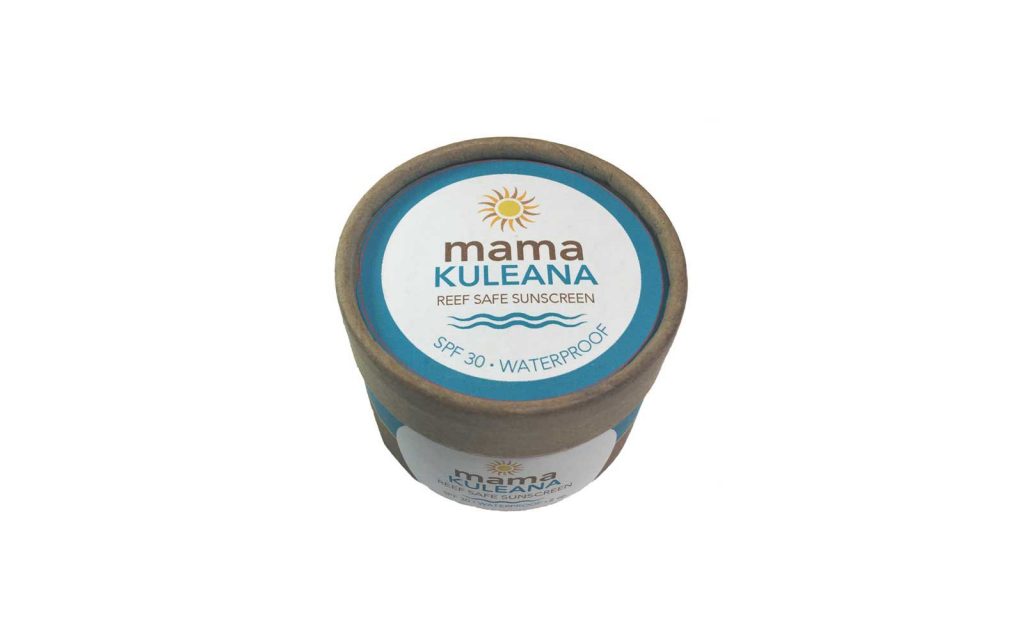 As the ideal sun care solution for active people in the world's harshest conditions, with an SPF 50, MANDA Organic Sun Paste is formulated for outdoor lovers by surfers, climbers, hikers, and athletes to stay on longer and protect against wind, water and sweat.
Utilizing only the highest quality, food grade, all natural and organic ingredients, MANDA Organic Sun Paste contains no harmful chemicals or synthetics and is non-toxic, reef safe (oxybenzone free and octinoxate free) and kid safe.
Our updated packaging now includes a mirror inside the cap for easy application!
MANDA's sun care products are the first of their kind to introduce the use of Thanaka.
From the wood of a tree native to Myanmar, Thanaka has been used for over 2000 years as a natural sun protectant that preserves and beautifies the skin. With its anti-inflammatory, anti-aging and moisturizing properties, Thanaka is the inspiration for MANDA sun protection.
In addition to its natural wellness properties, Thanaka is a sustainable and regenerative ingredient. By supplementing our formula with Thanaka, MANDA Organic Sun Paste was created to minimize its environmental footprint.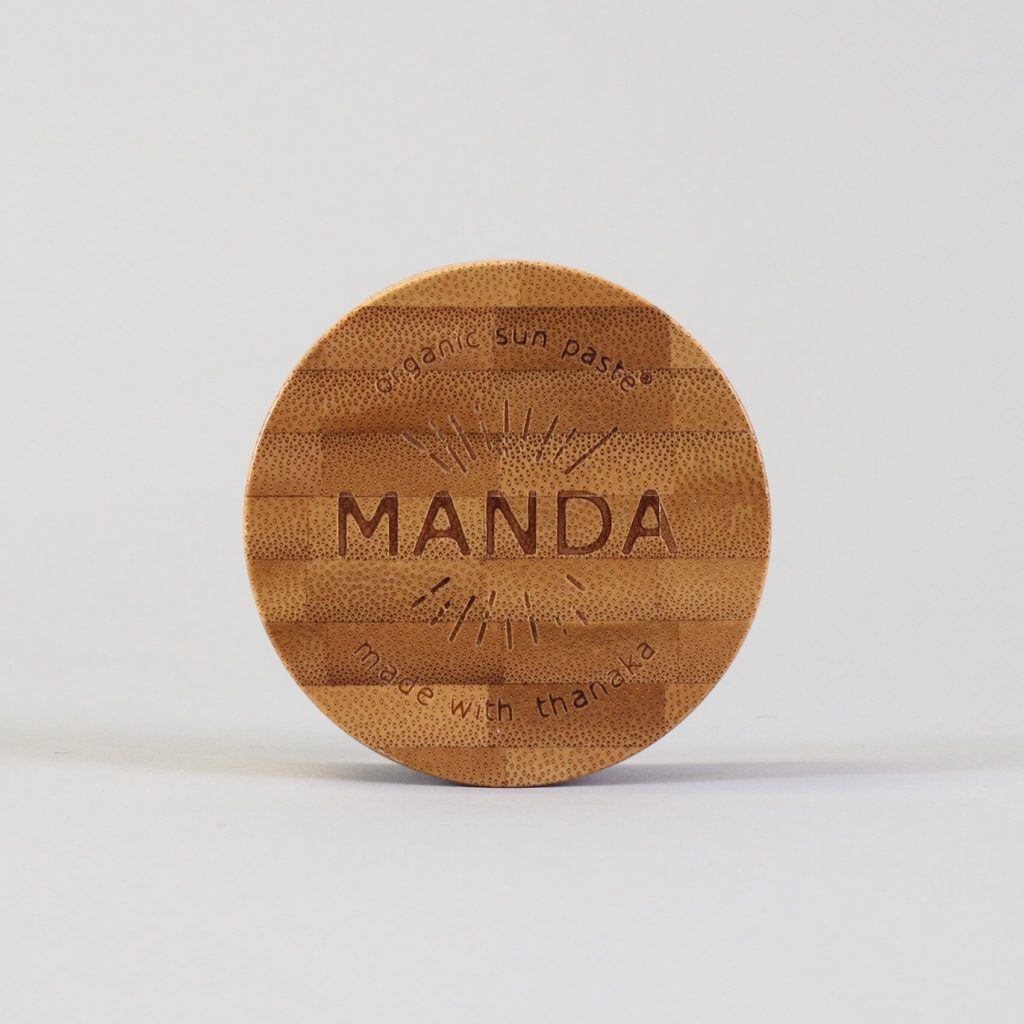 By Diana Nicholson
@malibubeachpilates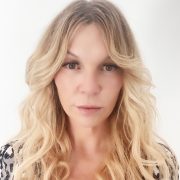 Cece Woods
Editor in Chief Cece Woods considers herself the "accidental activist". Having spent most her childhood on sands of Zuma Beach, Cece left Southern California in her early 20's, but it was only a matter of time before she returned to the idyllic place that held so many wonderful memories from her youth. In 2006, she made the journey back to Malibu permanently, the passion to preserve it was ignited. In 2012, Cece became involved in local environmental and political activism at the urging of former husband Steve Woods, a resident for more than 4o years. Together, they were involved in many high-profile environmental battles including the Malibu Lagoon Restoration Project, Measure R, Measure W, and more. Cece founded influential print and online media publications, 90265 Magazine in 2013 highlighting the authentic Malibu lifestyle, and The Local Malibu, an online news media site with a strategic focus on environmental and political activism. In the summer of 2018, Cece broke multiple global stories including the law enforcement cover-up in the Malibu Creek State Park Shootings, and is considered by major news media as a trusted authority on Malibu.