This weekend Malibuites should take a day trip to Santa Ynez for the day filled world class Polo for a worthy cause. The fundraising efforts will benefit People Helping People is a 501 c-3 non-profit organization dedicated to improving the lives of men, women and children in the Santa Ynez Valley, Los Alamos and surrounding areas by addressing emergency and basic needs and furnishing comprehensive integrated family and individual support services. 
Major sponsors underwriting the production costs of the Polo Classic include Happy Canyon Vineyard, Lisa Smith Wengler, First Bank, Montecito Bank and Trust, The Santa Ynez Band of Chumash Indians, O'Gara Coach, Engel & Völkers, Jetcraft, Uva Design Studio, High on the Hog Catering, Visit the Santa Ynez Valley, Smooth Transportation, Elliott and Pohls Construction, Pacific Western Bank, Kashmir and Kind, Figueroa Mountain Brewing Company, El Rancho Marketplace, Noozhawk, Geofoto Studio, Lindsey Drews Photography, In Paradise Photography, Kingfisher Farm, Windmill Nursery, Kopu Water, and the Santa Ynez Valley Star.
Dean Palius, C.E.O. of PHP, said that the fundraising event just would not be possible without the underwriting support of so many businesses committed to our mission. "We are blessed to have the help of these organizations who are dedicated to assisting those we serve that are in need."
Santa Ynez Polo Classic
Joel Baker and Memo Gracida, Santa Ynez Valley Polo Classic Player Coordinator, announced that for the first time, the Classic, to be held on Saturday, June 29th at Piocho Ranch at Happy Canyon Vineyard in Santa Ynez, will feature a four team playoff prior to event day.  The four teams of high goal players will play twomatches with the winners meeting in the featured championship match at the Classic on the 29th.  The remaining two teams will play a consolation match for third place prior to the championship. 
Baker and Gracida noted that they are very excited to have the four–team playoff format this year.  Baker said that "It shows how much interest there is in polo in the Santa Ynez Valley from top players in the U.S. and around the world. Since we started the Polo Classic seven years ago, excitement for the sport here in the valley from both the public and players has rapidly grown."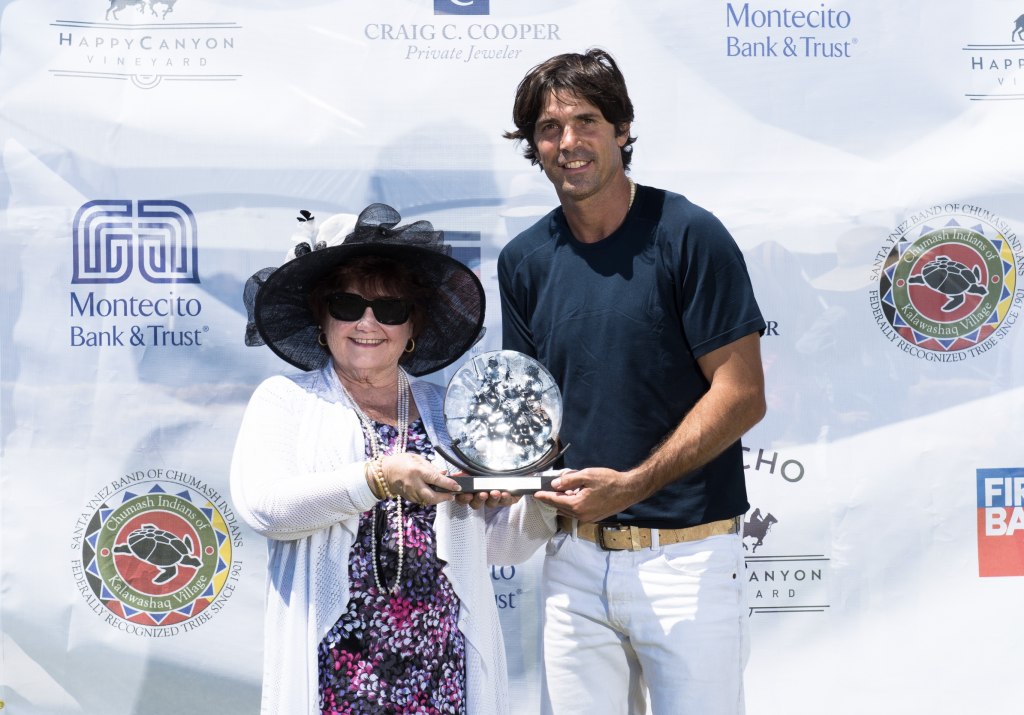 Returning for the second year will be a curtain raiser match introducing exceptional professional women players. Meghan Gracida, one of the players returning from last year, said that she is excited to play once again in what last year was a high scoring, fast paced, and exciting match.
The Polo Classic's feature match will include the return to Santa Ynez of two exceptional world famous players. One of the most popular players in the world, Nacho Figueras will ride for Team Piocho, last year's returning champions.  Figueras, born March 4, 1977, is an Argentine polo player and has been ranked as one of the top 100 polo players in the world. He is known as the former spokesperson for Ralph Lauren's Black Label but polo has been his real passion. He has said that his mission in life "is to bring polo to the world a little more." So, he is working hard to raise the profile of the sport of polo.
The legendary Memo Gracida, member of the Polo Hall of Fame will once again play in the Polo Classic. Gracida, the player with the most U.S. Open victories and a 10 goal player is a multiple-time Player of the Year Award winner.  Memo said he is proud to return to play again in the Polo Classic. "I really believe in giving a hand up the way PHP does it."
VIP, Patron, Club, and General Admission tickets as well as additional information for the 2019 Polo Classic on Saturday June 29th are available online atwww.syvpoloclassic.com or from erica@syvphp.org.  Tickets can also be purchased with bus transportation from stops within the Santa Ynez Valley, Westlake, ArroyoGrande, Santa Maria, and Santa Barbara.  Prices for transportation are posted on the ticketing website and vary by point of embarkation.
VIP reception and matches begin at 10:30 AM.  General Admission and Club Seating 11:00 open at AM.  The championship match is scheduled for 1:30 PM. Piocho Ranch is easy to reach at 1100 Secretariat Drive just a short drive from Highway 154 on Happy Canyon Road in Santa Ynez, CA.
To learn more about PHP, its programs, and ways that you can help, please visit the PHP web site at www.syvphp.org or call 686-0295.
Cece Woods
Cece Woods considers herself the "accidental activist". Having spent most her childhood on sands of Zuma Beach, Cece left Southern California in her early 20's but it was only a matter of time before she returned to the idyllic place that held so many wonderful memories from her youth. In 2006, she made the journey back to Malibu permanently, the passion to preserve it was ignited. In 2012, Cece became involved in local environmental and political activism at the urging of former husband Steve Woods, a resident for more than 4o years. Together, they were involved in many high-profile environmental battles including the Malibu Lagoon Restoration Project, Measure R, Measure W, and more. Cece founded influential print and online media publications, The Local Malibu and 90265 Magazine in 2013 highlighting the authentic Malibu lifestyle with a strategic focus on environmental and political activism. In the summer of 2018, Cece broke multiple global stories including the Malibu Creek State Park Shootings, and is considered by major news media as a trusted authority on Malibu.