By Chef Muriel Angot of Eating Well with Muriel
Salads are summer's best meal in Malibu and local chef Muriel Angot has quite a few in her arsenal. Combining super greens like Kale with antioxidant powerhouse; blueberries ( and a few other organic goodies ), makes for a wonderful warm weather meal.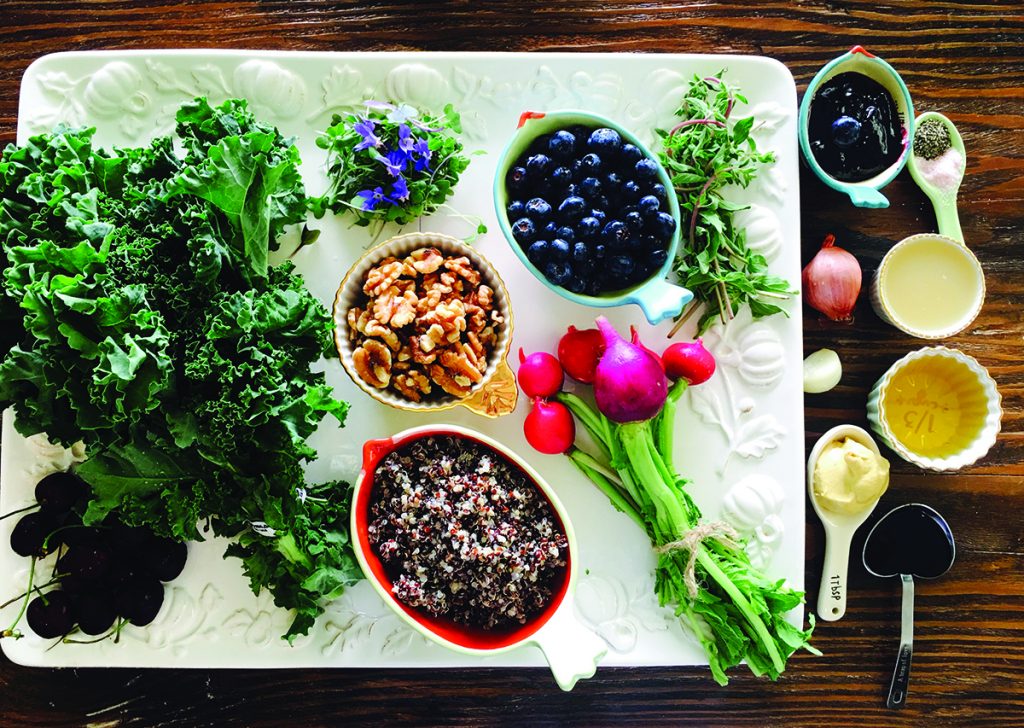 1 bunch of kale minced
1 cup of dark cherries, washed and halved
1 cup of blueberries
3/4 cup of walnuts
1 1/2 cup cooked quinoa
1 bunch of radishes (sliced thinly)
fresh oregano
5oz goat cheese, crumbled
Purple edible flower for deco (optional)
Dressing: We used blueberry jam in the pictures, but yesterday I made it with cherry jam
and it was delicious!
1 tbsp. thick balsamic vinegar
1tbsp. dijon mustard
1/2 cup cherry or blueberry jam
1 clove of garlic minced
1 shallot chopped finely
1/3 cup olive oil
1/4 cup lemon juice
salt and pepper
a few sprigs of oregano
1. Wash and mince the kale. Cut the cherries in halves. Slice the radishes. Cook the quinoa according to the box (Usually 1 cup of quinoa for 2 cups of water or broth. Bring to a boil. Reduce the heat and simmer for 20 minutes.)
2. Sauté the walnut in a pan under medium heat for about 5 minutes. Until golden. Reserve.
3. Chop the shallots and reserve for the dressing. Mince the garlic. Mix together all the ingredients for the dressing (I use the Cuisinart but you don't need too). Add the oregano leaves.
4. In a beautiful large bowl, place all the ingredients for the salad: Minced kale, blueberries and chopped cherries, the saluted walnut, the cooked quinoa, the sliced radishes, some of the fresh oregano, and the crumbled goat cheese. Pour the dressing (vinaigrette) on top and toss. Decorate with the purple edible flowers!