When New England fishermen and women complained of working harder and harder to catch fewer and fewer fish, Spencer Baird assembled a scientific team to investigate. Though a fishery failure would once have seemed inconceivable, Baird wrote in his report, "an alarming decrease of the shore-fisheries has been thoroughly established by my own investigations, as well as by evidence of those whose testimony was taken."
The report was Baird's first as head of the U.S. Commission of Fish and Fisheries. The year was 1872.
Am I wrong or are there more and more squid boats lighting up the night skies off of Zuma beach?  Knowing that our oceans are being overfished, I was curious as to why it seemed that year after year there were more and more squid boats.   I presumed that squid populations, along with fish populations, were both on the decline. After reading a recent news-feed on KBU, I became aware that new research in the Journal of Science shows that man induced changes to marine environments are leading to a surge of cephalopods: octopuses, squid, and cuttlefish. Their populations have boomed, from New England to Japan, since the 1950s. But why? Well, I found the answer to that question a few days later while crewing on an Ocean Defense Alliance boat that is based in the Channel Islands Harbor.  Kurt Lieber, the captain and founder of Ocean Defense Alliance, invited The Local to help volunteer on a diving mission to clear abandoned marine hazards from the ocean. The mission took place on their boat "Bob Barker's LegAsea."(Named for supporter Bob Barker, former television game show host and an advocate for the environment) Founded in 2000 and based in Orange County, California, Ocean Defenders Alliance (ODA) is a marine conservation organization and became a registered 501(c)(3) nonprofit in 2002.  Captain Kurt Lieber first crewed with the infamous Sea Shepard that was known to take direct action tactics to protect marine life. This included interdiction against commercial fishing, shark finning, seal hunting, and whaling. His former crewmates had been active in intervening against fishing and poaching in the South Pacific, the Mediterranean, and in waters around the Islands. That organization was founded in 1977 under the name Earth Force Society by Paul Watson, a former member of Greenpeace, who had a dispute with that organization over what Watson saw as its lack of more aggressive intervention.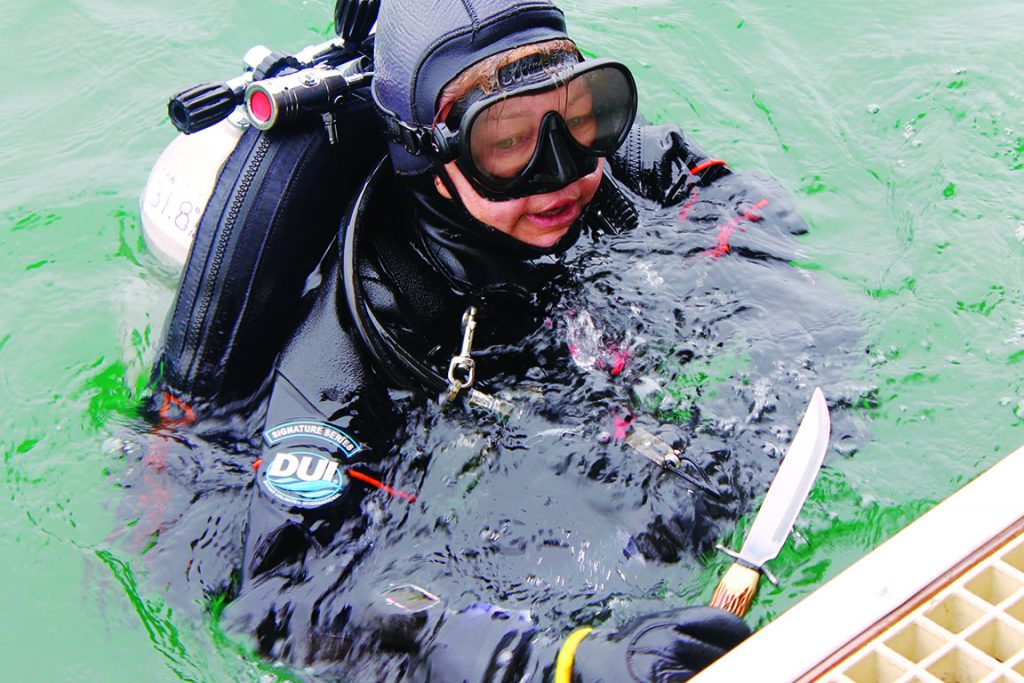 Volunteer divers donate their time to Ocean Defenders Alliance. This diver was cutting nets off the Newport Beach Pier which is a particularly demanding task.
Branching off on his own, Kurt Lieber established ODA with the following goals:
MISSION
Ocean Defenders Alliance works to clean and protect marine ecosystems through documentation, education, and meaningful action. Working with affected communities, we focus primarily on the reduction and removal of man-made debris, which poses serious threats to ocean wildlife and habitats.
VISION
ODA envisions a world in which we educate communities and involve them in solutions that help ensure marine ecosystems can exist free from harm caused by human debris. Without abandoned fishing gear, trash, and improperly sunken vessels damaging their habitat, marine flora and fauna will be able to thrive.
VALUES
1. Clear Focus: We do not compromise our mission, yet strive to remain flexible and open to new ideas.
2. High Personal Standards:  We operate from a foundation of integrity, respect, honesty, and expect the same of others.
3. Value Relationships:  We genuinely appreciate participation in and support of ODA's mission by our allies.
4. Continuous Improvement: To maximize our efforts, we continually evaluate our methods, seek opportunities to learn, adapt as needed, and otherwise strive to better ourselves.
5. Open Communication:  In all relationships, we endeavor to share communications frequently, truthfully, in a timely manner, and from the heart.
6. Intelligent Planning:  To best facilitate our mission, we act strategically – with forethought, diligence, and comprehensive analysis.
7. Inspire and Empower: With actions and through education, we raise awareness and motivate others to participate in making ODA's vision a reality.
8. Seek Collaboration: We recognize the value of diversity and seek to enhance our mission by including a broad cross-section of individuals, nonprofits, businesses, and
government agencies.
We met at the Channel Islands harbor on a cool, foggy Memorial Day weekend morning. We loaded supplies, dive equipment and motored out past fishing boats and the
breakwater on a boat financed by wildlife lover Bob Barker. Heading west, the captain instantly spotted some seine fishing boats laying out net not more than 1/2 mile offshore.
The captain is the nicest gentleman, a well spoken man who is all too aware of the worlds overfishing plight, but you could see him bristle and scowl into the binoculars that were aimed at the fish harvesters. The ocean was alive with dolphins, seals and pelicans diving into the frenzy of fish and though Kurt's inner warrior was awakened he took a deep breath in order to continue on his days mission. Just outside the breakwater was a sandy marine version of an aquatic killing field. It was full of a deadly combination of lost and abandoned lobster traps. Fisherman set their traps 200 feet from the rocks in 35 feet of water, but due to large swells washing them into the breakwater or as a result of heavy boat traffic severing the buoy lines, dozens of traps with bait are still lost on the bottom. The dangling ropes are a marine hazard that entangle whales and other boaters propellers.The traps continue to trap lobsters, who die in the steel cages, and then attract an endless cycle of lobsters that enter the trap to eat the dead lobsters. Soon after dropping anchor, volunteer expert divers Dave and Jeff, rolled into the brooding sea with their sea scooters to scour the sea floor for marine hazards. Even with poor visibility they managed to find and liberate a number of creatures from lost lobster traps, rebar, lead weights and hundreds of feet of various ropes, chains and buoy lines. In the Zodiac, Kurt's brother, Jim Lieber, Jennifer Wiser and I followed the air bubbles of the divers. We kept busy helping to locate each air bag that popped to the surface and hauled on board the miscellaneous junk that was attached to the bag lines. All of the traps and ropes we pulled up were loaded with marine life that is required to be released back into the ocean. The captain works on instilling good relations with local fisherman by reaching out and returning lobster traps back to the owners. He is also helping them to increase lobster populations by liberating the bugs from the lost traps so they can breed another generation.
On dive after dive, and all over the world, Kurt found abandoned commercial fishing gear on the ocean floor or attached to boat wrecks that indiscriminately killed marine flora and fauna long after its service to the fishing industry was over! At the same time, in his studies of the state of the world's oceans, Kurt read widely diverse reports about the oceans, and came to understand the dire plight of life in the seas.
The urgent call came clearly to him: rampant, escalating overfishing and man-made pollution was threatening the survival of marine wildlife and the overall health of the life-giving seas of the earth…and someone needed to DO something about it!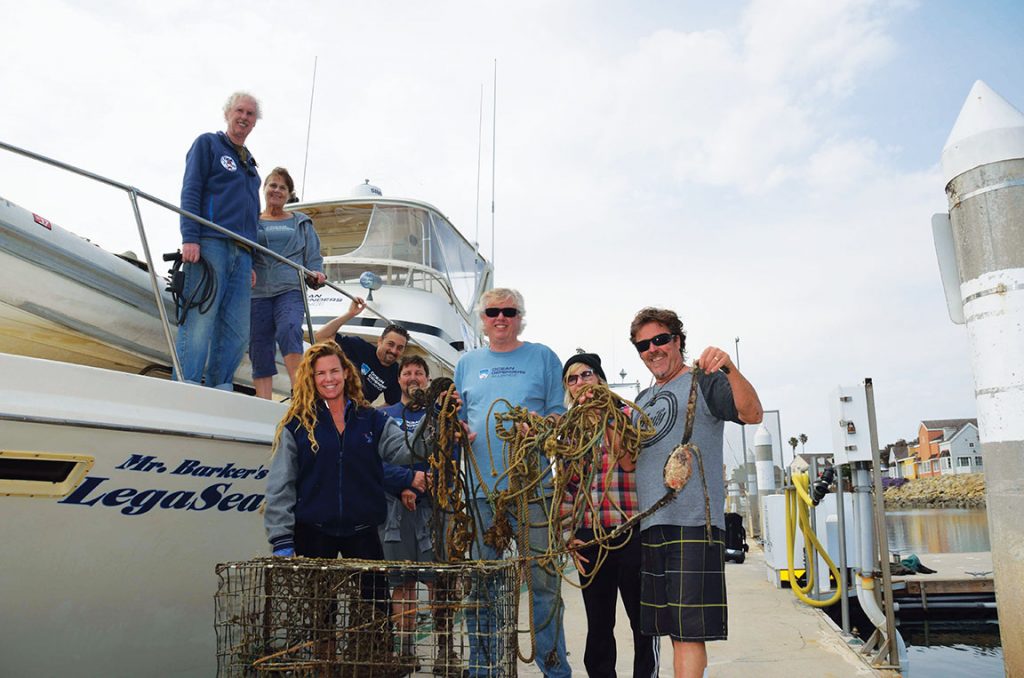 The days catch freed of trash by the crew of the Ocean Defender's Alliance.
His heart told him to take action, and his intellect agreed completely. So, with a 40-foot boat generously gifted to ODA by Sea Shepherd Conservation Society, Kurt began taking volunteer divers to reported abandoned fishing gear sites. Using the boat as a dive platform, the divers descend at each location, cut the gear loose, and float it to the surface. Volunteers on the boat haul it onto the deck and take it back to shore for proper disposal. Animals such as lobsters, crabs, and fish found trapped alive are carefully liberated by ODA, and thus given a new chance to thrive, grow, and breed.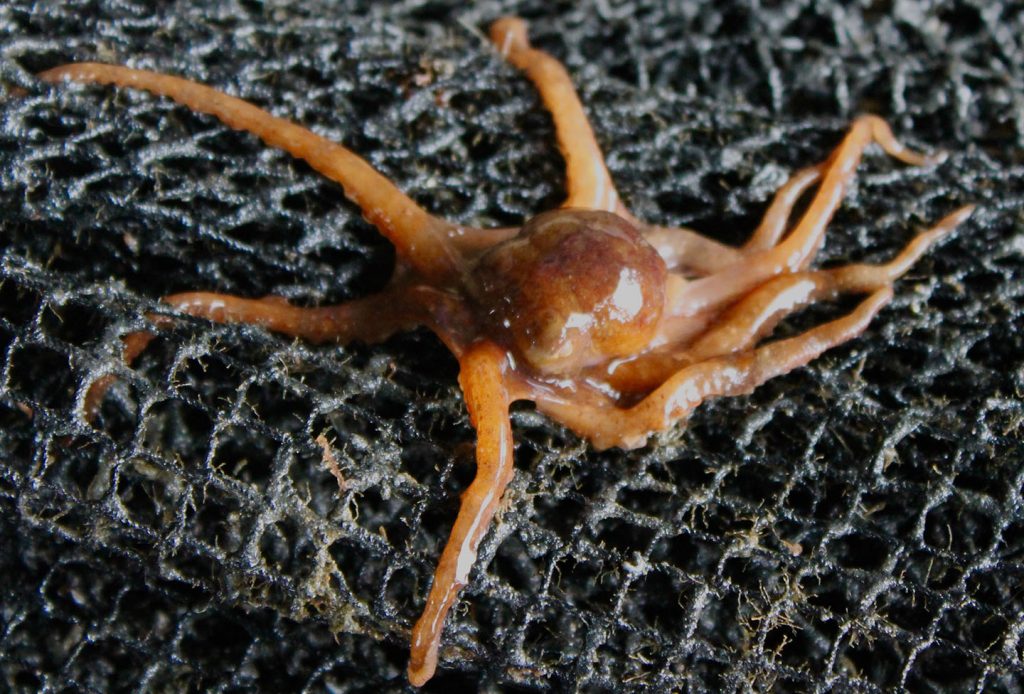 In addition to doing invaluable work at sea, ODA also works onshore to educate the public about the vital need for clean and healthy oceans. Through educational presentations at schools, expos, festivals, and dive clubs, they strive to inform people of all types and ages, raise their awareness about the plight of the oceans, and inspire them to join their efforts. ODA also reaches out to fishermen, restaurants, and the seafood community to enlighten them to these issues and to seek to gain their commitment to becoming better stewards of the oceans.
After a successful day of cleaning up trash that litters our oceans sea floor, I asked Captain Kurt about the squid populations that seemed to be increasing near Malibu. I told Kurt that I had assumed squid increases were a positive sign but he quickly frowned, shook his head and informed me that cephalopods such as octopuses, squid, and cuttlefish are on the rise because the fish populations that traditionally feed on them (such as tuna) have been decimated by over fishing.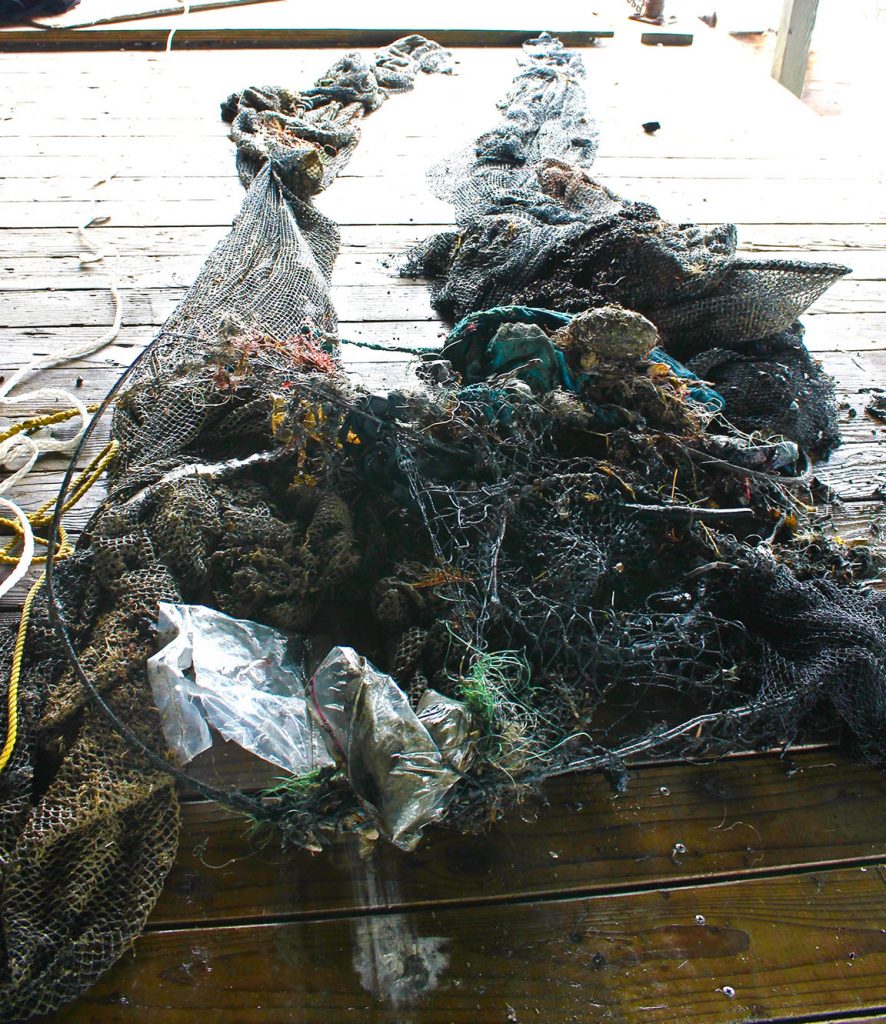 If any one would like to help or donate to the Ocean Defense Alliance, these are some of their immediate needs:
1. Truck.  We need this to tow a small Zodiac all around So Cal.  A 4-cylinder, small truck, like a Toyota, a Nissan or even a Ford Ranger.  Ideally it would have less than 100,000 miles on it.  Not looking for a vehicle that we'd immediately have to sink thousands of dollars into.
2. A Rigid Inflatable Boat (RIB).  This would be much better for our plans to remove plastics from our rivers, streams, estuaries and shipping channels than the Zodiac that we currently have.  I've attached a picture of what we'd prefer to have.
3. Boat slip fee of $700/month.
4. Fuel.  Our costs for diesel and oil run about $1,000/month.
5. Hull cleaning service.  $200/month.
6. Deck lines.  $400.
7. New bottom paint.  $2,000.
8. Acoustic guitars.  We've got several guitar players that volunteer with us, and it would be nice to have some fun between dives!
9. Vegetarian food.
10. Set of standard and metric open-end wrenches.
11. Set of standard and metric hex sockets, with socket wrench.  3/8 drive.
12. Set of Phillips head screwdrivers.
13. Set of flat head screwdrivers.
14. Cordless drill.
15. Batteries for our DPV's (Diver Propulsion Vessels, UW scooters).  We need 3 of them.  They run $600 each.
On behalf of 90265 Magazine and The Local Malibu, thank you for your "dev-ocean" to our oceans and we invite anyone who shares similar passions to help contribute to a worthy cause. – Steve Woods